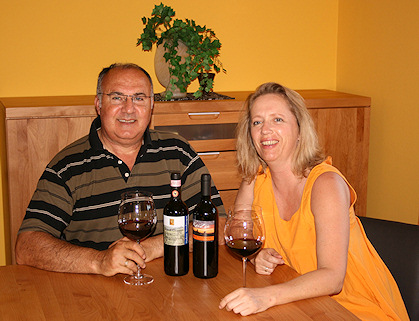 Leo and his wife Birgit enjoying a good glass of wine
WHO AM I ?
My name is Leo John Tranchina, born and raised in Australia of Italian parents. In Australia I studied and qualified with a Diploma of Engineering (Mechanical) and started work for a large, German multi-national company who, amongst other purposes, then transferred me to Germany to learn the head office operations as well as the German culture. Here in Germany I met my German wife and we have been living in Grossenseebach, with our two sons, since 1990.
Through my professional career I have travelled extensively all over the world where I was responsible for selling gas and steam power plants, primarily in south east Asia, as well as subway cars and propulsion systems in the United States of America.
During the span of my professional life I have made many rewarding contacts and experiences with all types of interesting people and their cultures, as well as learning to share a good drop of red wine with my many customers.
My past experience in travelling throughout the world has led me to the conclusion that the countries that form the background of my heritage, Australia and Italy, have many excellent red wines, which don't cost the earth ! Consequently my philosophy has become "Great tasting red wines don't need to be expensive !"
I have become interested in sharing my experience of procuring and selling red wines for the benefit of my friends and family and have therefore started this website as an "after hours side business".
I hope that you also find the red wines that I have available to your entire satisfaction and I would be pleased to receive your feedback on the range of red wines so that I can continue to source excellent red wines at affordable prices, not only for yourselves, but for me as well !
Sincerely yours
Leo John Tranchina